Partnership . Trust . Relationship
Average
investor return p.a*
Investor capital
returned
Alternative real estate investment opportunities
As one of Australia's leading boutique investment manager and non-bank lender, Zagga's objective is to generate high-yielding, alternative investment opportunities through facilitating the funding of high-quality loan transactions in the Commercial Real Estate Debt (CRED) sector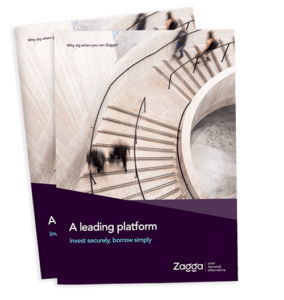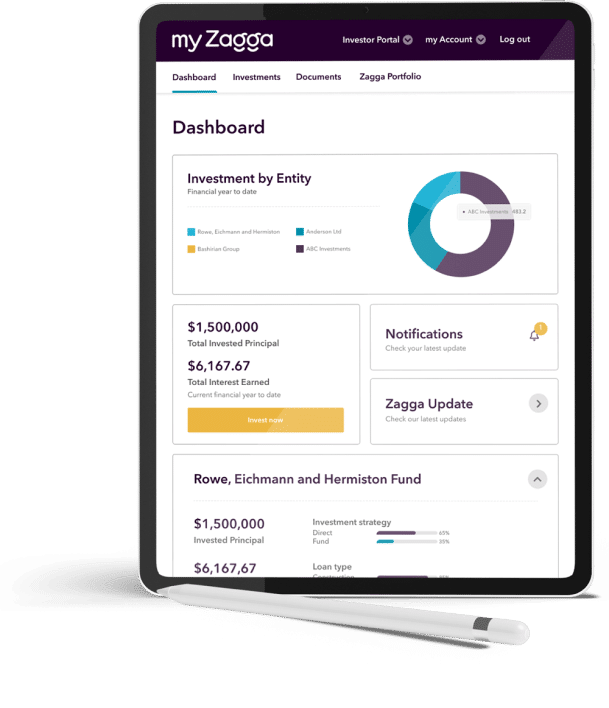 For Investors seeking alternative real estate investment opportunities​
Zagga offers the alternative of accessing regular, predictable income and the option of adding a 'middle ground' to a well-diversified portfolio, all 100% first mortgage secured by Australian property.
For creditworthy borrowers exploring flexible, bespoke alternatives
Zagga means fast, simple and flexible borrowing for multiple loan purposes. Since 2017, Zagga has funded a range of lending transactions across a spectrum of loan purposes.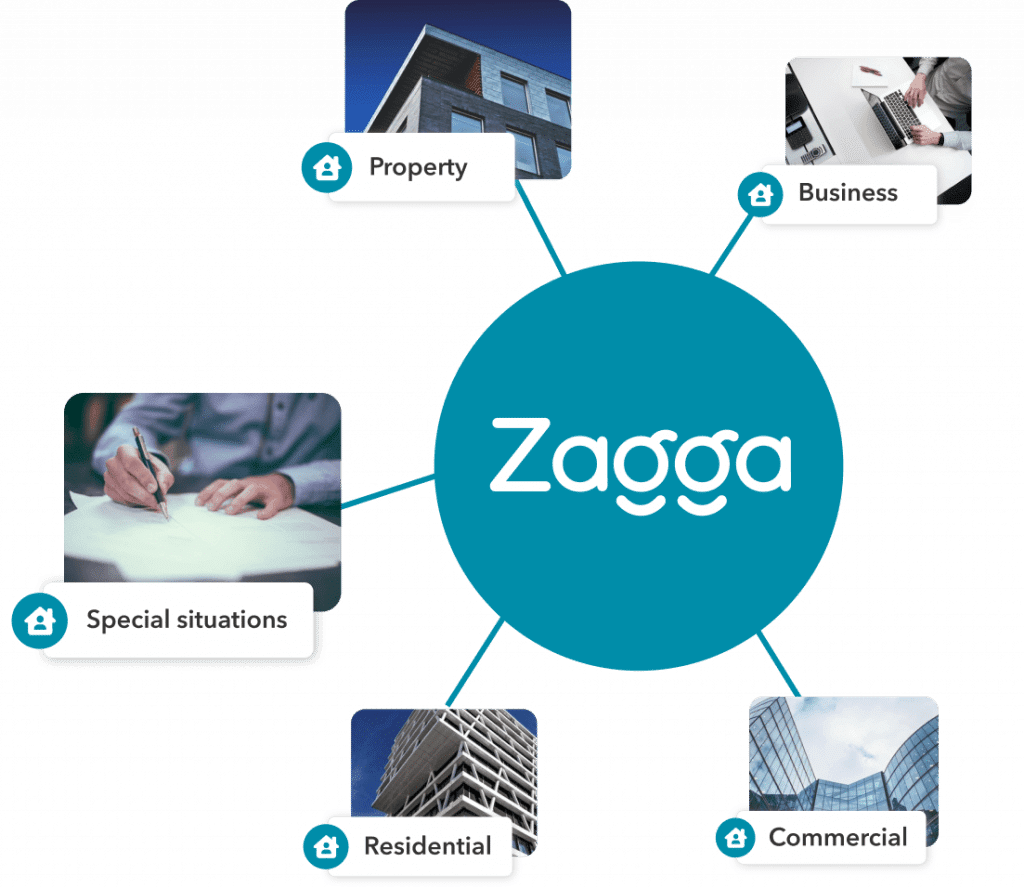 We're helping our borrowers bring major projects to fruition whilst also providing investors with attractive returns.
Explore
our lending transactions
Typical investment opportunities
Build a diversified portfolio and add that 'middle ground' through investing in Commercial Real Estate Debt. Here are some recent high-yielding, alternative investment opportunities we have facilitated for our investors. Register to start exploring alternative real estate investment opportunities in Australia.
8.85%
Investor return p.a. (variable)
LVR 64.99%

Construction of mixed-use apartments

Estimated term 6 months
8.75%
Investor return p.a. (variable)
LVR 49.54%

Industrial development

Estimated term 7 months
8.75%
Investor return p.a. (variable)
LVR 65%

Site acquisition

Estimated term 12 months
8.95%
Investor return p.a. (variable)
LVR 62.74%

Residential development

Estimated term 18 months
Meet the executive team
Over 100 year's combined experience
Alan Greenstein
CEO & Co-Founder
Alan has more than 30 years' experience in banking and finance, following a short stint as a legal practitioner, with work experience in the UK, South Africa and Australia.
He has consulted widely to owner-managed businesses across strategy, technology and operations. He co-founded Zagga in 2016.
Frank Hageali
Director, Investments
Frank has been involved in the finance and property industry for 25 years. Prior to his last bank role as Senior Associate Director/Acting State Director NSW for ANZ Bank's Corporate Property Group, Frankheld senior and management positions in Corporate, Institutional and Property divisions in Australia's major financial Institutions. Most recently he was Head of Credit at Secured Lending.
Steven Levy
Director, Investments
Steve has been a part of the core team since inception and comes with a high level of experience in portfolio management, investor relations and capital markets.
As a Chartered Accountant (CA ANZ), Steve is a key operator of the business and member of both the Investment and Credit Committees
Three steps to get started​
Register to start exploring the alternative investment opportunities we offer
Register
Confirm your investment entities and status as a wholesale investor
Investment Strategy
Choose between investing directly or via one of our Funds
Invest
Earn regular income and be kept informed on your investments
Subscribe to our newsletter to learn more about Zagga
Zagga is my first exploration of the 'alternative investment' market. When reviewing the opportunity, I looked at the combination of the product offering, the integrity of the people in the business, and the capacity to execute, and I was happy to invest. Once I started to invest, the business' thoroughness and due diligence was clear. When reviewing other investment opportunities, there tends to be a lot of hype, which I'm wary of. This is not the case with Zagga; you feel comfortable in what you're doing. It surprises me the breakneck speed people try to get mortgages on the platform, there's huge demand and interest for deals. You know your money is stable, and there's a level of comfort with Zagga. I've got property, equity and this is my fixed income, interest producing component. My Zagga investments are in the order of 10% of my available investment portfolio. I like that the deals are relatively short-term for fixed income investments. You're not locking your money away forever. I've recommended it to half a dozen people to invest in, including my family.
In my four years of investing with Zagga, there's never been a problem. I don't have any sleepless nights. You know exactly what your returns are going to be; they don't dimmish. What you sign is what you get. Alternative investments like Zagga are an important addition to my investment strategy. I consider my Zagga investment part of my cash portfolio. The beauty of it is you get consistent, above market returns, and there's flexibility in the offering. If you are looking for a long-term option, you can put your money into the fund, whereas if you know you'll need your money in the next 6 to 12 months, you can look on the platform and find a deal that aligns with that need. It's a bit like having a rental in a property, your rental payments are ongoing, the market can fluctuate, but that doesn't impact your payments. With Zagga, you're getting your returns/interest upfront, or ongoing, it's not affected by unpredictable market events. Alan and the team's due diligence on deals is outstanding. There is a lot of cover and security on the opportunities. I would recommend Zagga to others, and in fact I have done so many times before.
Zagga offers efficiency, transparency and steady returns. My investments on the platform are property secured syndicated loans. During a time of uncertainty aggravated by Covid-19 Zagga provides stability. I have confidence in Alan and the entire team. It's important for me that it's not just the online platform. At all times I have access to, and face-to-face contact with the individual team members. The team is trustworthy and reliable-essential criteria.
I've been developing boutique residential, retail and commercial property for 8 years now, and historically I used to work with banks to source funding. However, since the Royal Commission into banking, approval processes became slow. So I started to look at non-bank lending options. I now use non-bank loans regularly as part of my funding mix, especially when I need a quick turn-around of funding for land purchases. In fact, non-bank loans make up 65% of my current funding. Zagga is quick, efficient, and transparent; I've used them for numerous transactions. The team is easy to deal with and fair with their LVR ratios. I still use the banks too, but they're much slower, and since the pandemic it's been vital for me to access funds quickly to take advantage of various opportunities in the market. I've currently got two developments underway, one in Sydney and one in Melbourne, both with loans sourced using Zagga, around the $5M and $10M mark. I wouldn't hesitate to recommend them.
Do you have questions about investing through Zagga?​
Fill in your details to schedule a call back at a time that suits you.